#SparkRacingNews
06-09-2020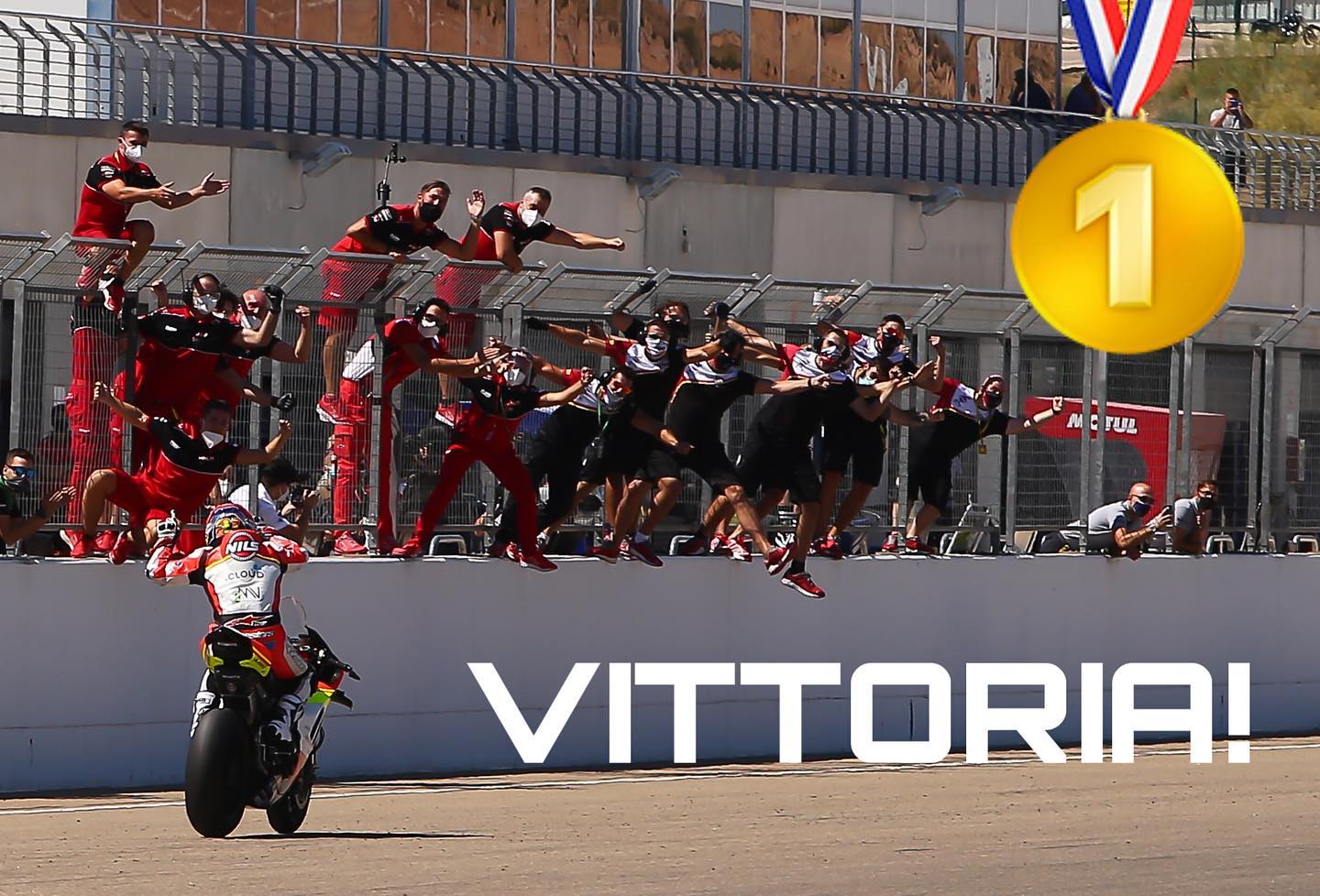 WSBK - Great VICTORY for Rinaldi and his Ducati V4r in Aragon
The Panigale of GoEleven private team is 1st in Race1, 2nd in Race2, 3rd in Superpole Race and also registers the best lap in both Race1 and Race2.
WSBK Aragon, 6 Settembre 2020
Such a perfect weekend will enter the history of World Superbike and also of Spark and Team Go Eleven Team thanks to the amazing performance of Michael Rinaldi and his Ducati Panigale V4R.

The young rider from Romagna immediately shows all his talent and desire to win on Friday and scores the best lap time in FP1, in FP2 in FP3. He gets the first row in Superpole and he starts Race 1 in second position. He immediately takes the leading position during the first lap and the one-way race begins: he keeps the first position throughout the 18 laps and concludes with
well-deserved victory and 6 seconds ahead of the multiple-champion Rea.

Michael climbs on the podium again in Superpole Race and qualifies in the front row in 3rd place. He starts Race2 and hold his position during the first laps of the race. Then he starts a real show with the first and second rider. After thrilling overtakings he concludes in 2nd position just a few hundredths far from Rea. Rinaldi conquers 3 podiums and a Victory, 2 fastest laps and the award as Top Independent Team for his Team Go Eleven.

Denis Sacchetti - Team manager: "It was also thanks to Spark that we have made the difference"

Melania Vecchi - "Yesterday's victory and all results collected over the weekend are the crowning achievement of a long work, a dream that comes true. We have been working for years dedicating incredible energies to the development of exhausts for world competitions, WSBK or Moto2 for example. In particular, we've been truly passionate about Ducati for the last 3 generations.. The cooperation with Denis and Gianni from Team GoEleven dates back many years ago but last winter they told us that 2020 season's technical partners needed verification and official approval by Ducati to have the guarantee of a very high technical level. The first satisfaction was therefore being "approved" as a technical supplier last December. At that point, an important challenge started for us to demonstrate how an Italian company, with technologic know-how, highly qualified staff could have an edge over competitors thanks to its flexibility and great passion. Michael has been racing with incredible determination yesterday, his bike was technically flawless... and with a lot of dedication and passion we were able to give his V4r the extra spark that allowed him to win against such "monsters" as the multiple champion Rea or the official teams. We made a dream come true, our Ducati was ahead of everyone! ".

Rinaldi is now in 6th position in the general standings and the first private Ducati.